SPYKE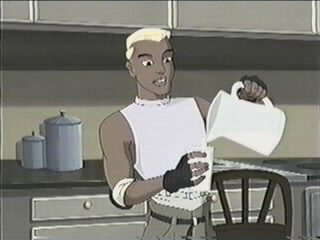 Name: Evan Daniels

Age: 15

Powers: Self-Replicating Exoskeleton (He can grow spikes all over his body and shoot them at people etc. )

Origin: New York in the USA

Relations: Ororo Monroe (Storm) - Aunt, Non-mutant parents

Grade: Freshman

Hobbies: Skateboarding, soccer, video games and comic books

Favourite Foods: Gyros ( - huh?!), tacos and Cajun cooking

Favourite Music: Lenny Kravitz, Smashmouth, Red Hot Chili Peppers and surf tunes

Classes: Introductory Spanish, College English, Social Studies, Introductory Astronomy, Gym (with other X-Men), Algebra and Art.
Evan loves his powers and just wants to bust loose. But the others hold him in check, warning him what will happen if everybody at Bayville High finds out about their abilities. He loves to skateboard, and can perform any number of acrobatic tricks. During battles, he's the X-Man most likely to showboat - because he totally gets off on the thrill. Also, he frequently makes use of his skateboarding skills during skirmishes, becoming a human torpedo.
He may be Storm's nephew, but Evan doesn't want any special treatment. He's a nice guy with a great sense of humor - albeit sometimes biting. He has been known to razz Rogue and Cyclops about their powers, but always regrets it if/when he sees he has truly hurt their feelings. Think of Evan as little Gavrock in Les Miserables: the tough little kid who wanted to be the hero of the revolution - the lionhearted little lamb. That's Evan, only he can back up his bravado with action. Sure, he'll get trounced every now and again - but he'll always come back for more.
Evan is a bit like the Lone Gunmen in X-Files. He's filled with esoteric and arcane knowledge, but largely of the geeky variety. Guys like that think they're "plugged in," via the Internet and street smarts, to things "they" don't want us to know about.
Although Evan looks completely normal most of the time, his powers involve rapid bone growth - allowing him to sprout protrusions through his skin to form protective coatings and spikes. Stegosaurus-like spurs shoot out from his arms and back, which he can use offensively. The bones grow all over his face and limbs, and look really fearsome. Over several episodes, he will learn how to project these spikes firing them like missiles at opponents. They prove to be extremely destructive when used against vehicles and (non-living) opponents.